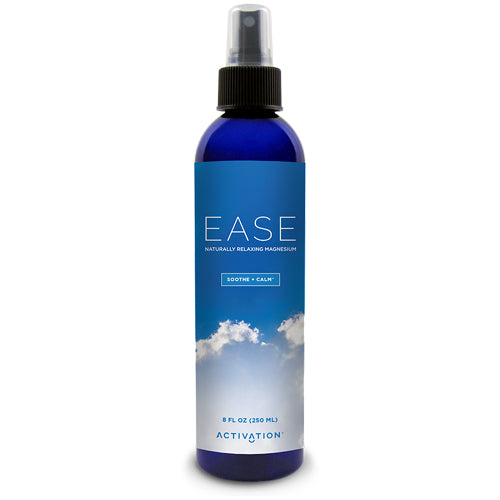 ACTIVATION Products EASE Magnesium - 250ml
Regular price $40.00 Sale
EASE Magnesium
Spray. Rub. Relief.
8 fl. oz (250ml)
SOOTHE + CALM
EASE Magnesium is a topical supplement that enters your bloodstream through your skin. Within 90 seconds it goes to work where you need it most. Each spray delivers approximately 22 mg of magnesium chloride hexahydrate, easing your aches and pains, improving your sleep, and encouraging a sense of relaxation and calm. Regular use restores healthy magnesium levels and promotes calcium absorption. Each bottle of EASE is filled to the top with nothing but 100% pure iMCH™, our all-natural, bioavailable magnesium. Unlike other transdermal magnesium products, EASE does not cause stinging, burning or itching and will not leave a residue on the skin.
EASE Magnesium is a special pain, sleep and stress solution that goes to work in under 90 seconds, giving you powerful and fast relief from some of life's worst age accelerators. It's a bioavailable magnesium solution that soothes your body from your head to your toes. Once absorbed through your skin, your muscles and joints soak up the magnesium and your aches, pains and tension melt away.
Several studies suggest that magnesium deficiency is as high as 80% in the U.S. If that's not bad enough, magnesium deficiency has been linked to more than 50 health conditions. Replenishing your body of the magnesium it's missing is paramount. EASE makes getting the magnesium you need not only easy, but fast. Nearly everyone who uses this one-of-a-kind spray reports feeling noticeable effects immediately. Cramps disappear, muscles relax, joint pain fades and you get the quality sleep you deserve.
Ingredients: Purified water and pharmaceutical grade magnesium chloride hexahydrate.
100% pure iMCH™.
Suggested Use: 30-50 sprays on wrists, tops of the feet, underarms, backs of knees and hips. Ingestion not recommended. Best absorbed after a hot shower or bath.
Shelf-Life/Storage Instructions: Keep bottle capped and store in a cool, dry place, out of direct sunlight. When stored properly, spray will remain fresh for 36 months.