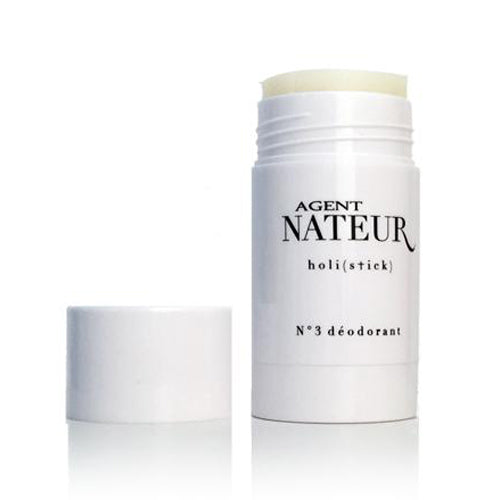 AGENT NATEUR h o l i ( s t i c k ) N3 deodorant 1.7 oz Large UNISEX
Regular price $21.00 Sale
***WINNER OF THE 2016 GLAMOUR BEAUTY AWARDS
organic cocos nucifera, (coconut oil)  cera alba, (beeswax) sodium bicarbonate, (baking soda) persea gratissima, (avocado butter) helianthus annuus, (sunflower butter) ricinus communis, (castor oil) organic honey, organic lavendin, organic eucalyptus globulus, love
*** If you have a history of sensitive skin or allergic reactions, please be sure to test body products on a small area inside your wrist for 2-3 days prior to using. If you are sensitive to baking soda or other ingredients we recommend that you try an apple cider vinegar wash prior to using our deodorant. Apply apple cider vinegar and warm water to a wash towel and pat your underarms before applying our deodorant. This has alleviated the rash and allowed those who are sensitive to continue using natural deodorant that contains baking soda.




Agent Nateur cannot guarantee that customers will not experience skin reactions or effectiveness when using our products and cannot be held responsible should any reactions or non-effectiveness occurs. We are not responsible for stained

clothes

. Please note all sales are final and returns are not accepted.