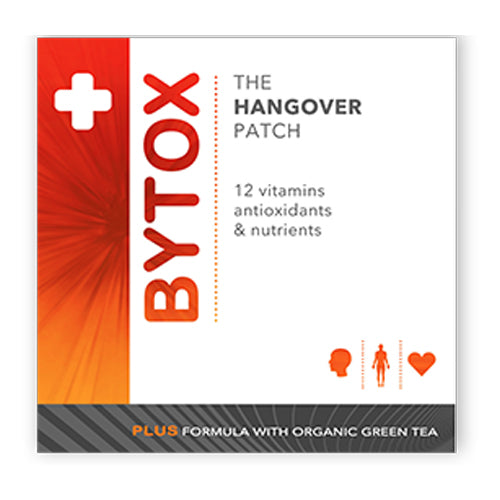 BYTOX The Hangover Patch 25 CT
Regular price $37.50 Sale
ABOUT BYTOX: The specially-formulated Bytox hangover patch replenishes the vital levels of vitamins, nutrients and antioxidants your body loses when you consume alcohol. By enhancing and restoring these nutritional levels, Bytox may reduce the physical side effects of alcohol consumption. Bytox has zero calories and won't irritate your stomach.
Directions: Apply one Bytox patch before consuming alcohol. Peel off the patch from the package and apply it to a dry and hairless area on your body. Keep the patch on for 8 hours after you've stopped consuming alcohol. In the meantime, stay hydrated. Please note that when using the patch on a regular basis, apply it to different areas on the body.
BE RESPONSIBLE: The Bytox patch does not reverse or prevent sensory impairment in the operation of machinery or vehicles after alcohol consumption. Bytox does not reduce or affect the alcohol blood levels. ALWAYS DRINK RESPONSIBLY.