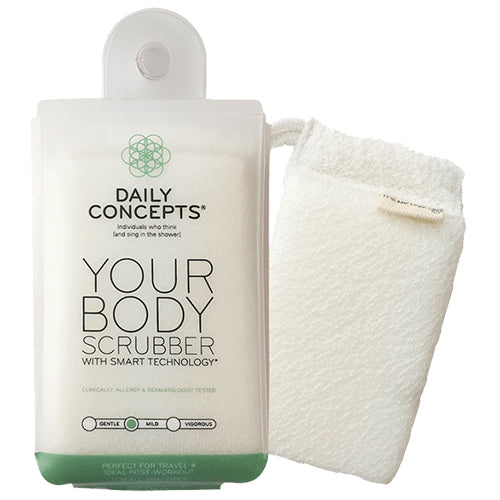 DAILY CONCEPTS Daily Body Scrubber
Regular price $10.00 Sale
CLEAN IS A STATE OF MIND
Regular texture where you need more exfoliation and soft texture for the more gentle parts of your body. (You just need to choose your side.)
This is what makes me unique:
Label with indicator that fades when it's time to replace Your Dual Texture Scrubber.
Natural cotton base layer with nylon exfoliating loops for the ideal texture.
Environmentally friendly, soy based foam material (inside the scrubber) to create a rich lather.
Clinically, allergy and dermatologist tested.
NOT TESTED ON ANIMALS. Cruelty free.
Made in North America.
Functional packaging (suction cup included).
This is why I am perfect for you:
Perfect for taking to the gym (packaging allows for suctioning/hanging on walls so I don't come in contact with… well, who knows what was there before you?)
Just the right texture for sloughing the skin, providing a bit of pampering versus one of torture for your skin/bathing regime.
Great to use if you're in a hurry, or simply because you are environmentally conscious and trying to conserve water.
Your Body Scrubber is the perfect accompaniment for thinking and singing in the shower while the fabrics work thoroughly to keep you clean. (Plus the label indicator lets you know when Your Body Scrubber needs to be replaced.)