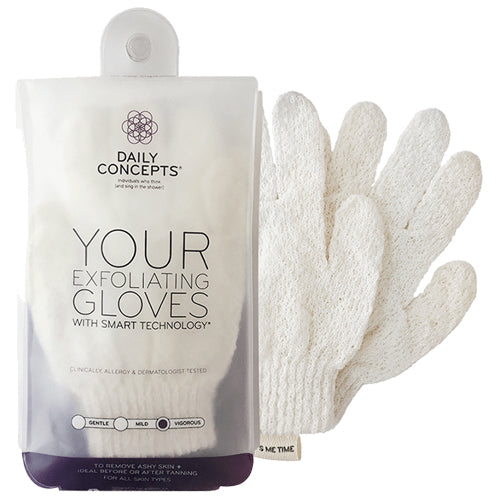 DAILY CONCEPTS Daily Exfoliating Gloves
Regular price $16.00 Sale
CLEAN IS A STATE OF MIND
Firm texture deeply exfoliates skin during a bath or shower.
This is what makes me unique:
Label with indicator that fades when it's time to replace Your Exfoliating Gloves.
Natural cotton base layer with nylon exfoliating loops for the ideal texture.
Clinically, allergy and dermatologist tested.
NOT TESTED ON ANIMALS. Cruelty free.
Made in North America.
Functional packaging (suction cup included).
This is why I am perfect for you:
Ideal to use while getting a scrub treatment in your favorite spa or at home.
Its texture will exfoliate the dead skin cells of the top layer of your skin, creating a healthy, fresh feeling all over your body.
Special blend of materials allow fabric to stretch so gloves adapt to your hands.
Your Exfoliating Gloves are the perfect accompaniment for thinking and singing in the shower while the fabrics work thoroughly to keep you clean. (Plus the label indicator lets you know when You Exfoliating Gloves need to be replaced.)
Texture: Firm (For a complete exfoliation)