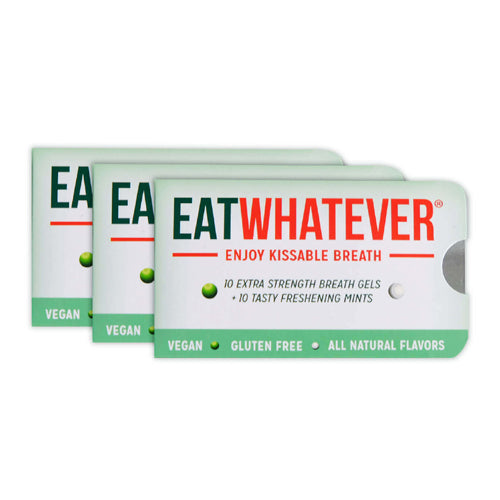 EATWHATEVER Peppermint Breath Freshener - 3 packs
Regular price $15.00 Sale
A gel cap for your stomach where bad breath often starts AND a tasty mint for fast fresh breath!
– All Natural Flavors, Vegan & Gluten Free
– Each pack has 10 Gel Caps PLUS 10 Mints
– Fight Bad Breath After A Meal, Coffee, Spicy Food or Long Flight
Eatwhatever® is a fast-acting breath freshener for confident, kissable, and clean-tasting breath in two quick steps. Swallow a Gel Cap and then enjoy a refreshing Mint!
UNIQUE COMBINATION EFFECT – The Eatwhatever® Mints immediately freshen your mouth while the easy-to-swallow Gel Caps go to work neutralizing the bad breath caused by food in your stomach. The combination of the Mint and the Gel Cap lets you enjoy garlic, spicy foods and onions without fear of bad breath for up to 6 hours.
HOW IT WORKS – Eatwhatever® Gel Caps are formulated with organic Peppermint, Parsley Seed, and Sunflower Oils to dissolve in your stomach within minutes to help make your breath fresh. The delicious and refreshing Mint gives you instant minty-ness in your mouth while you wait for the Gel Cap to do its thing.
A GREEN GEL CAP FOR LONG PROTECTION – The natural breath fresheners of Parsley Seed Oil, Peppermint Oil, and Sunflower Oil in the Eatwhatever® Gel Cap work in the stomach to help eliminate offensive odors from food, garlic, and onions, smoking, and morning breath.
A TASTY WHITE MINT FOR A QUICK REFRESHING BURST – Savor and enjoy after coffee or meals, before a meeting or interview, after a flight, or any time you want an immediately refreshed and clean mouth feeling.
CONVENIENT PACK SIZE – Each small pack of Eatwhatever® has 10 Gel Caps and 10 freshening Mints. Easily fits into your pocket, purse, travel bag, or briefcase.
Whether you work closely with people at work or are going out on a romantic date, feel confident with Eatwhatever®. Now you can enjoy the garlic and spicy foods that you love without the fear of bad breath!
*These statements have not been evaluated by the US Food & Drug Administration. This product is not intended to diagnose, treat, cure or prevent any disease.
Satisfaction guaranteed or your money back if you contact us within 30 days. Shipping is free within the USA.
egan Gel Cap Ingredients: Organic Sunflower Peppermint Oil, Parsley Oil, Purified Water, Starch, Glycerin
Mint Ingredients: Sugar, Natural Peppermint flavor, Natural Menthol Favor, Stearic Acid, Magnesium Stearate
Directions: Swallow one gel cap with liquid then enjoy a mint!