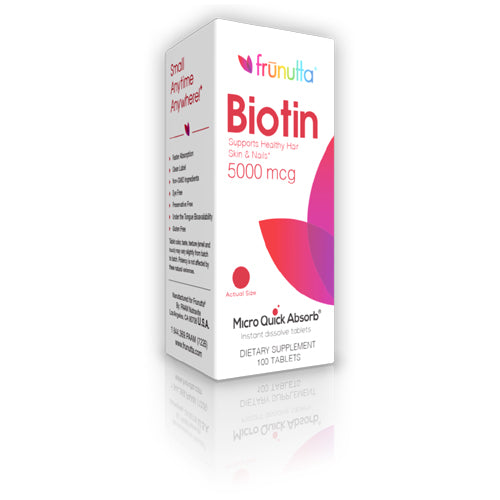 frunutta Biotin 5000mcg sublingual - 100 Tablets
Regular price $19.00 Sale
Frunutta Biotin 5000mcg sublingual:
Increases Hair Growth*
Biotin 5000 mcg is used to increase and strengthen hair.* It helps with hair growth, and helps support the metabolism of carbohydrates, fats and protein.*
The word "biotin" comes from the ancient Greek word "biotos," which means "sustenance." Biotin helps keep your skin, hair, eyes, liver, and nervous system healthy.*
It may improve glucose tolerance, used in energy and amino acid metabolism, as well as fat breakdown*
Biotin is also a crucial for embryonic growth during pregnancy.
Getting more biotin regulates your blood sugar, promotes healthy hair, nails, and skin, and helps pregnant mothers have healthier babies. *
Besides "Contributing to the maintenance of normal hair, skin, and nails", Biotin:
Supports a Healthy Metabolism*
Could improve Glucose Intolerance and may help Balance Blood Sugar*
Protects the Brain and fights Cognitive Functions*
Maintains a healthy Cardiovascular System*
Helps to Support Thyroid and Adrenal Function*
Needed to Build and Repair Tissues and Muscles
May help with Hair Loss*
*. These statements have not been evaluated by the Food and Drug Administration. This product is not intended to diagnose, treat, cure, or prevent any disease."
About the product:
small potent dietary supplements
requires no swallowing or water
Micro Quick Absorb Instant dissolve tablets
Preservative Free, Non GMO, Gluten Free, Dye Free; No Fillers,
No Additives, No Excipients
Easy to take
All our vitamins and dietary supplements are manufactured in our Certified GMP facility under strict GMP (Good Manufacturing Practice Guidelines) in Los Angeles, California