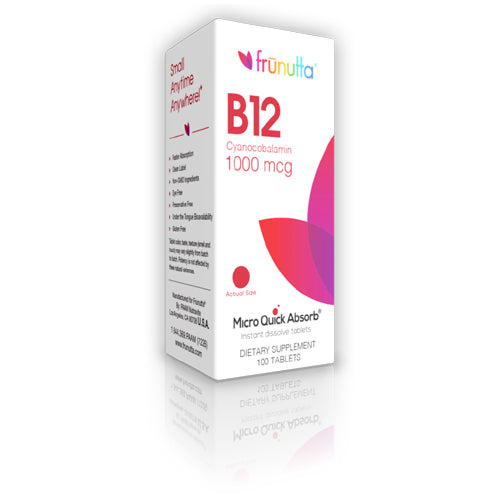 frunutta CYANOCOBALAMIN 1,000 mcg sublingual - 100 Tablets
Regular price $16.00 Sale
Frunutta CYANOCOBALAMIN 1,000 mcg sublingual:
 For Anemia & Nerve Balance*
Cyanocobalamin supports metabolic health*, blood cells*, and nerves*. It is said to help with pernicious anemia*, stomach and intestine issues* and permanent nerve damage caused by B12 deficiency.* Also widely used for providing B12 support for those who had gastric bypass and chemo.*
B12 Cyanocobalamin is a man-made form of vitamin B12 used to treat a deficiency of this vitamin.* It is essential for maintaining metabolic health, blood cells and nerves. * It must turn into Methylcobalamin within the body before absorption begins.*
B12 Cyanocobalamin supports:
Maintenance of red blood cells*
Helps with stomach/intestine problems*
Prevents permanent nerve damage*
Helps with poor nutrition*
Helps to prevent anemia*
Vitamin C can decrease the amount of Vitamin B12 you absorb. Keep this in mind if you are taking a lot of C to strengthen your immune system such as during a cold.*
*. These statements have not been evaluated by the Food and Drug Administration. This product is not intended to diagnose, treat, cure, or prevent any disease."
About the product:
small potent dietary supplements
requires no swallowing or water
Micro Quick Absorb Instant dissolve tablets
Preservative Free, Non GMO, Gluten Free, Dye Free; No Fillers,
No Additives, No Excipients
Easy to take
All our vitamins and dietary supplements are manufactured in our Certified GMP facility under strict GMP (Good Manufacturing Practice Guidelines) in Los Angeles, California