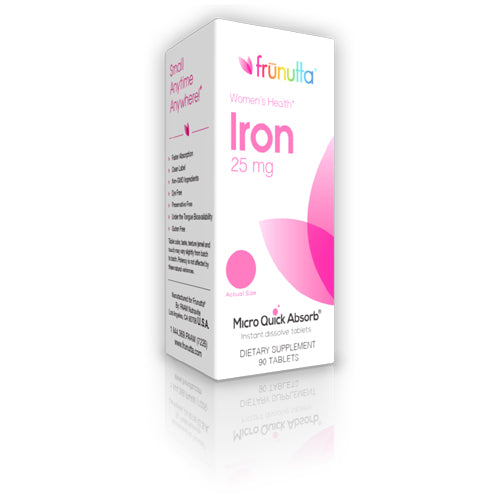 Frunutta Iron 25mg sublingual - 90 Tablets
Regular price $16.00 Sale
Frunutta Iron 25mg sublingual: Supports Red Blood Cells & is Gentle on Stomach* 
Iron 25 mg supports the production of red blood cells and is gentle on the stomach.* Iron is known to help with Anemia
Iron is a mineral responsible for carrying oxygen in our red blood cells and transmitting nerve impulses. Not having enough iron in the body is known as anemia.
Without healthy levels of iron, your red blood cells cannot effectively provide oxygen to your cells and tissues.*
Symptoms of anemia include:
fatigue
 weakness
dizziness
difficulty concentrating
Common causes of anemia include:
 menstruation, particularly if flow is heavy or prolonged
peptic ulcer disease
cancer in the digestive tract
blood loss from trauma or blood donation
gastrointestinal bleeding from prolonged use of medications like aspirin and ibuprofen*
*. These statements have not been evaluated by the Food and Drug Administration. This product is not intended to diagnose, treat, cure, or prevent any disease."
About the product:
small potent dietary supplements
requires no swallowing or water
Micro Quick Absorb Instant dissolve tablets
Preservative Free, Non GMO, Gluten Free, Dye Free; No Fillers,
No Additives, No Excipients
Easy to take
All our vitamins and dietary supplements are manufactured in our Certified GMP facility under strict GMP (Good Manufacturing Practice Guidelines) in Los Angeles, California