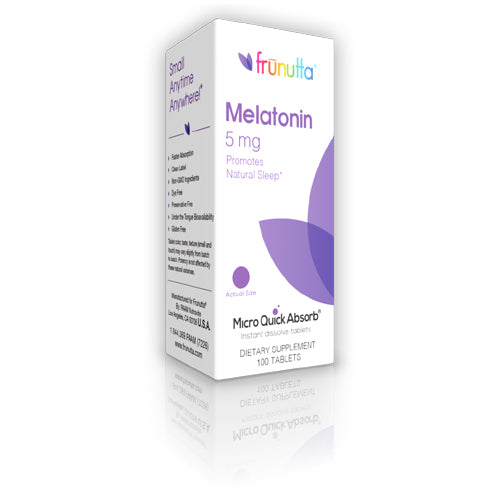 frunutta MELATONIN 5 mg sublingual - 100 Tablets
Regular price $17.00 Sale
Frunutta MELATONIN 5 mg sublingual:
Helps support sleep
Melatonin 5mg helps to regulate sleep and wake cycles and supports sleep for healthy adults.
Melatonin is a hormone secreted by the pineal gland, a tiny endocrine gland situated at the center of the brain.
Melatonin plays an important role in the regulation of sleep cycles. Its production is influenced by the detection of light and dark by the retina of the eye. 
 Melatonin plays a role in:
Sleep disorders*
Reduced rate of death from Cancer*
Protection from radiation (Protect against radiation-induced cellular)*
Reducing seizure frequency or improving quality of life in people with epilepsy*
Reduce the incidence of delirium*
Might improve sleep in autistic people*
Reducing the effects of jet lag*
Regulating the release of reproductive hormones in females*
Has antiaging properties*
Modulating certain functions of the immune system*
It acts as an antioxidant, neutralizing harmful oxidative radicals, and it is capable of activating certain antioxidant enzymes*
Widely used to promote healthy sleep*
Combat inflammation*
Fight aging effects*
Improve brain function*
Boost immune system*
Reduce migraine headaches*
 Melatonin production gradually declines with age, and its loss is associated with several age-related diseases.*
 *. These statements have not been evaluated by the Food and Drug Administration. This product is not intended to diagnose, treat, cure, or prevent any disease."
About the product:
small potent dietary supplements
requires no swallowing or water
Micro Quick Absorb Instant dissolve tablets
Preservative Free, Non GMO, Gluten Free, Dye Free; No Fillers,
No Additives, No Excipients
Easy to take
All our vitamins and dietary supplements are manufactured in our Certified GMP facility under strict GMP (Good Manufacturing Practice Guidelines) in Los Angeles, California