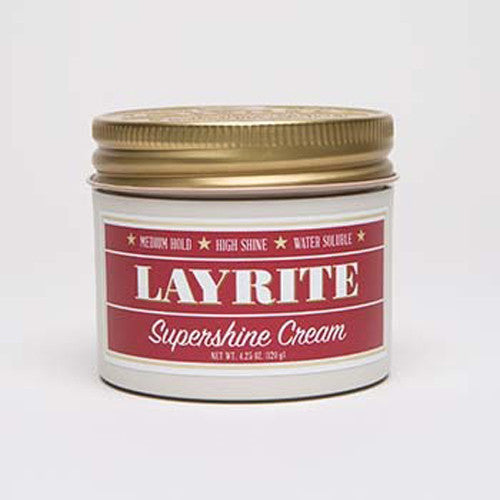 Layrite Super Shine Hair Cream - 4.25oz
Regular price $18.00 Sale
Layrite Super Shine Hair Cream, 4.25oz
The name says it all, you want high shine...this is it. And we've kept the high hold that you expect from Layrite using our water-based formula that washes right out.  Use to create a straight, sleek look, to shine up your pomp, or to soften naturally curly or wavy hair.
Super high shine for that polished look, more shine than our Original and Super Hold Pomade
Very High Hold, not as strong as our Original formula but really close
Water-based formula washes right out just like a gel
Does not dry in your hair at all, stays soft so you can keep combing it.
Controls even the curliest and thickest hair out there
Keeps your hair in place and looking good all day
Includes one 4 ounce jars of Layrite's Super Shine pomade
How to use Layrite
Because it is water-based, Layrite pomade is versatile - you control the strength of hold and sheen simply by drying your hair to the desired amount:
Dry your hair: Layrite Pomade is has the strongest hold when used on DRY HAIR. Blow your hair completely dry for hold like a 90 weight wax or towel dry your hair for hold like a 30 weight wax.
Apply Layrite: Rub an ample of Layrite into the palms of your hands until it softens, then rub thoroughly into your hair.
Style: Simply comb or use your hands to style hair. Add more Layrite or more water as needed to achieve the style you want.
Restyle: Supershine does not dry in your hair so you can re-style as need throughout the day using a comb or your hands without adding more water or pomade.