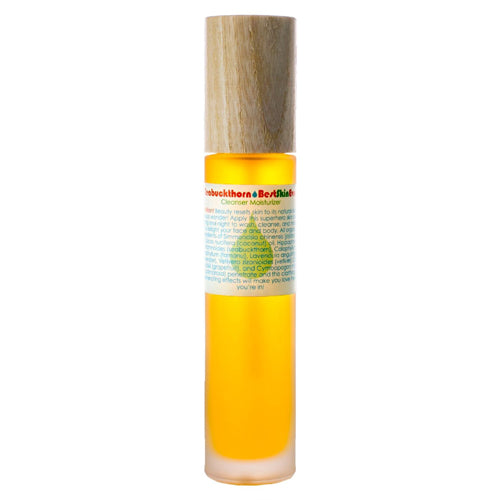 Living Libations Best Skin Ever - Seabuckthorn 50ml
Regular price $30.00 Sale
Silky Seabuckthorn Best Skin Ever, resets skin to its natural state of luminous, sparkling wonder! Seabuckthorn Best Skin Ever is an all-in-one cleanser, exfoliator, and moisturizer that can be used to grace the face, tempt the nose, and make skin sing from head to toes!
Revive and clarify the grace of your skin and face with Seabuckthorn Best Skin Ever, our best-selling skin elixir packed with omega fatty acids, vitamins, lipids, and hundreds of bioactive compounds.
Restore skin to its natural state of smooth, glowing wonder with this facial and body moisturizer that doubles as a face and body wash. As Seabuckthorn and pure plant botanicals penetrate the clarifying, regenerating effect will make you LOVE the skin you're in!
Seabuckthorn Best Skin Ever, resets skin to its natural state of luminous grace! Created with harmonious, organic oils perfect to bring into balance every skin type, Seabuckthorn Best Skin Ever is brimming with nourishing bioactive botanical compounds. Skin sings under the care of Seabuckthorn and all her attentive tissue-attendants that absorb effortlessly into the skin, infusing tired tissues with a kaleidoscope of botanical blessings. Our golden jojoba melts into endless moisture, working with coconut and lavender to supple and, balance the skin. Brilliant berries of tamanu inspire the freshest skin, while rich roots of vetiver balance sebum in the skin. Grapefruit tightens and tones as palmarosa nourishes and adores each pore.
Use: All-in-one to cleanse, exfoliate, and moisturize. Removes makeup. Perfect to cleanse from nose to toes. Beautiful for after sun rehydration. Combine with other Serums, Elixirs, and Essential Oils to create your own unique blend. Gentle enough for children. Perfect for all skin types, including as a cleanser for acneic skin.
How to Use Our Best Skin Evers
Our Best Skin Evers renew the face and bedew the body and with grace. These all-in-one botanical blends cleanse, moisturize, and nourish the skin. Best Skin Evers are crafted to bring into balance all skin types.
Washing the face with pure pressed plant oils is an ancient Ayurvedic and gracious gypsy method to cleanse and gently exfoliate the skin. Nadine designed the Best Skin Evers to be your finest bathing and beauty aide. These oils plus water and a cloth are the simple essentials to cleanse, exfoliate, moisten and bedew.
Directions: Washing/Cleansing your Face with Best Skin Ever™
Wet a small portion of a cloth with water.
Apply one to two squirts of any of the Best Skin Evers (Seabuckthorn, Sandalwood, Rose, Frankincense, or Neroli), to the dampened portion of the face cloth.
Gently massage the face, neck and back of the neck with the moistened cloth. Wash gently or wash vigorously for a deeper exfoliating effect. Rinsing the face is optional.
If more moisture is needed, add another squirt or two of any of our Best Skin Evers or Libations Serums (Rose Glow, Soothsayer, Royal Rose, Sandalwood, Chocolate Karate, or Open Sky) to your fingertips and massage into the face and neck. If your skin feels extra thirsty, a Libations Crème (Sundew, Rose Glow, All Seeing, or Maverick) will satisfy.
You can also add a drop or two of any of the Serums to a dab of any of the Crèmes. They all blend beautifully together.
Directions: Using Best Skin Ever™ on your Body after a Bath or Shower
Leave the body wet after a bath or shower.
Wet a washcloth with water. Squeeze it out.
Apply a few squirts onto the wet washcloth of any of the Best Skin Evers.
Massage the entire body with the cloth, head to toe. Rub more vigorously to exfoliate.
Organic Ingredients: Hippophae rhamnoides (Seabuckthorn), Simmondsia chinensis (Jojoba), Cocos nucifera (Virgin Coconut) Oil, Calophyllum inophyllum (Tamanu) Oil, Lavandula angustifolia (Lavender), Chrysopogon zizanioides (Vetiver), Citrus paradise (Grapefruit), and Cymbopogon martini (Palmarosa).
Seabuckthorn (Hippophae rhamnoides) Essential oil– Seabuckthorn sends its lipids deep into the skin, diminishing imbalances from the inside out. This supercritical extract is packed with omega fatty acids 3, 6, 7, and 9, antioxidants, vitamin, palmitoleic acids, carotenoids, and phytosterols. A single drop of seabuckthorn oil contains 190 different bioactive compounds. This bright orange essence is incredibly regenerative and complexion clearing - relaxing redness and paring puffiness. Seabuckthorn is an excellent addition to cleansers for acne. It helps to harmonize skin with sun.
Jojoba (Simmondsia chinensis) Oil – Glorious, golden jojoba nourishes and conditions thirsty skin. Jojoba has unparalleled ability to moisturize the skin, balance oil production, deep clean pores, and create long-lasting conditioning effects that soften skin to perfect silk. It is packed with peptides and lipids, and contains the highest levels of phenolic compounds found in nature, not to mention tocopherols, antioxidants, and all soluble forms of vitamin E!
Virgin Coconut (Cocos nucifera)Oil – Our pure, pristine virgin coconut oil satiates skin, offering magnificent moisture and resilience. Coconut oil is smoothes the appearance of fine lines and wrinkles, and protects the skin's moisture barrier.
Tamanu (Calophyllum inophyllum)Oil – Enchanting tamanu is a replenishing berry oil that is easily absorbed deep into the skin to keep moisture in and shelter the skin from dryness. Tamanu is said to even skin tone and reduce the appearance of scars. Even for a fatty oil, it has a high (92%!) lipid content.
Lavender (Lavandula angustifolia) Essential Oil – Lovely lavender is a gentle-yet-powerful skin tonic that is restorative and calming. It relaxes redness and cools heated. Lavender can be used to improve the appearance of scars, even out skin tone, soothe acne, and balance the skin's sebum levels.
Vetiver (Chrysopogon zizanioides) Essential Oil – Rich, earthy vetiver Rich, earthy vetiver oil is grounding and calming for the skin, anointing the skin as the rain anoints the grass. Vetiver is a known moisturizer that helps skin maintain its pleasant plumpness while soothing tired tissues and balancing sebum production. 
Grapefruit (Citrus x paradise) Essential Oil – Toning, tightening grapefruit refreshes the skin while toning the appearance skin texture.
Palmarosa (Cymbopogon martini) Essential Oil – Pleasant palmarosa is distilled from a tropical, fragrant grass resulting in an aromatic oil that smells like a lemony-geranium-rose and is simply splendid for the nose! This formidable skin rejuvenator is rich in mighty monoterpenols, emollient esters, loving linalool, and generous geraniols. It is packed with beneficial botanical compounds. This potent oil tones and rejuvenates the skin. It is used to support radiant skin and to achieve balance between oiliness and dryness.