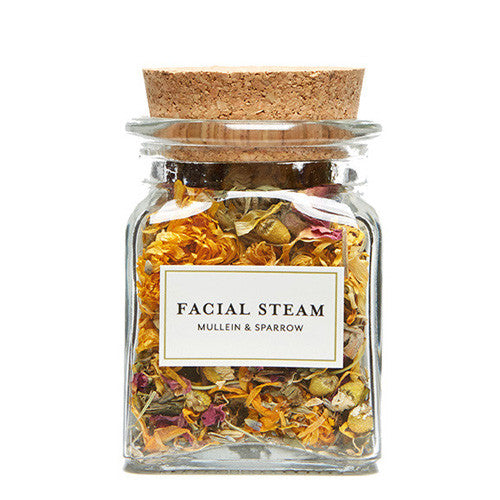 MULLEIN & SPARROW Facial Steam 1.5 oz/42.5 g
Regular price $28.00 Sale
A beautiful blend of organic skin-nourishing herbs and flowers to help detoxify skin.  Steam opens the pores for deep cleansing and purifying, increases circulation for a rejuvenated glowing complexion, and soothes the senses.  
Can also be used as a tea to internally detoxify the skin.
Use:
Bring 4 cups of water to a boil. Add a handful of herbs and allow to steep covered for 5-10 minutes. Secure hair back and wash face with a gentle cleanser. Remove mixture from stove and create a steam tent over the head using a light towel. Rest head 2-3 inches above the steaming herbs, and allow yourself to unwind in the steam tent for about 5 minutes. Breathe deeply and enjoy the effects of the herbal treatment.
Ingredients:
Lavandula angustifolia (lavender)*, Matricaria chamomilla (chamomile)*, Rosa centifolia (rose)*, Calendula officinalis (calendula)*, Symphytum officinale (comfrey)*, Glycyrrhiza glabra (licorice root)*, Foeniculum vulgare (fennel)*, Rosmarinus officinalis (rosemary)*, Urtica dioica (nettle)*, Stellaria media (chickweed)*
* Organic
1.5 oz /42.5g