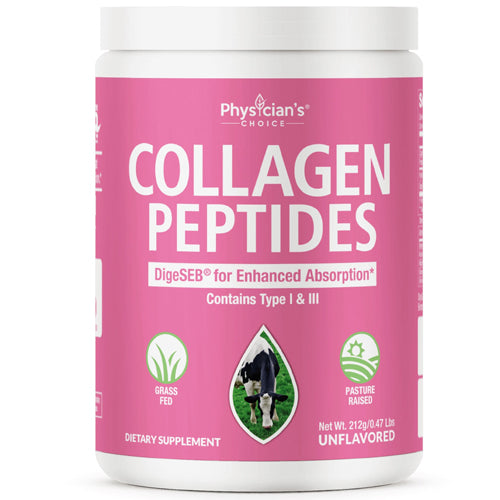 Physician's Choice Collagen Peptides Powder 212g
Regular price $27.00 Sale
Solving the common absorption problem of most collagen supplements, our collagen peptides powder gives you glowing, healthy and younger-looking skin.
Collagen is essentially the glue of the human body. It's contained in the middle layer of our skin and is responsible for how our skin looks and feels. It's also in our muscles, joints, hair and skin. One of the main concerns with collagen has been that it isn't easily absorbed by the body. But Physician's Choice uses DigeSEB, which are clinically proven digestive enzymes, to help ensure that your body can readily absorb and get the collagen to where it needs to go.
Reduce Cellulite and Wrinkles
The use of collagen peptides has been shown to reduce cellulite in people taking a dose of 2500 mg. each day for six months.1
Collagen for Less Brittle Nails
Bioactive Collagen Peptides can also help strengthen nails. Taking the clinically studied does of 2.5 grams can help reduce the incidence of broken nails by up to 42%.2
Blend for a Healthy Morning Protein Boost
Since our collagen powder is odorless and flavorless, it can be blended into oatmeal, smoothies, shakes or coffee as part of your morning routine!
Hydrolyzed Collagen: Collagen peptides stimulate skin cells to create healthy, new collagen. Collagen is a protein naturally found in your body that is responsible for your skin's appearance. The structure of collagen can be damaged by natural aging, or too much UV exposure. Taking a bioavailable collagen supplement helps replace and rebuild damaged collagen, or helps when your body stops producing as much collagen as you age.
DigeSEB Digestive Enzyme Blend:DigeSEB is a blend of specialty enzymes that help with digestion and help break down the peptide chains in collagen. This ensure that Physician's Choice Collagen Peptides are the most bioavailable and effective on the market.