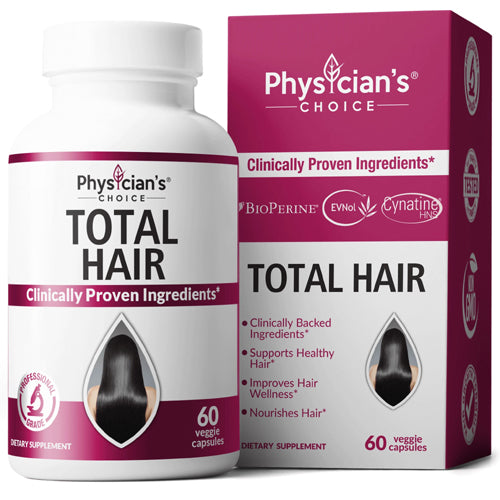 Physician's Choice Hair Growth Vitamin Supplement 60caps
Regular price $29.00 Sale
See as much as 47 percent reduction in hair loss in just 90 days with our nutrient-rich Hair Growth Formula!
Reduced Hair Loss
Keratin, found naturally in the body, is a protein found in hair, skin and nails. Physician's Choice Hair Growth Formula helps provide the body with bioavailable (easily absorbed by the body) keratin, which helps protect and repair hair at a cellular level. Studies show reduced hair loss in as little as 30 days and as much as 4 times over the placebo group in a controlled study.1
Our Health Growth Formula also contains a potent form of vitamin E (tocotrienol) that has been shown to have a positive impact on hair loss for those with alopecia.2
Stronger, Shinier, Brighter Hair
In addition to thicker hair, people taking a bioavailable keratin supplement saw a significant increase in overall hair shininess and brightness-about 88% of all people who participated in a clinical study.
Cynatine HNS: A patented version of soluble keratin, which is the protein found in hair, skin and nails and is responsible for protecting and strengthening hair and nails.
EVNolMax: A full-spectrum (all 8 isoforms) vitamin E containing tocopherol and tocotrienol, which have been clinically shown to strengthen and repair hair at a cellular level.
BioPerine: A patented black pepper extract used in several of Physician's Choice supplements to help improve the bioavailability and effectiveness of supplements and allow for better absorption of nutrients and minerals.