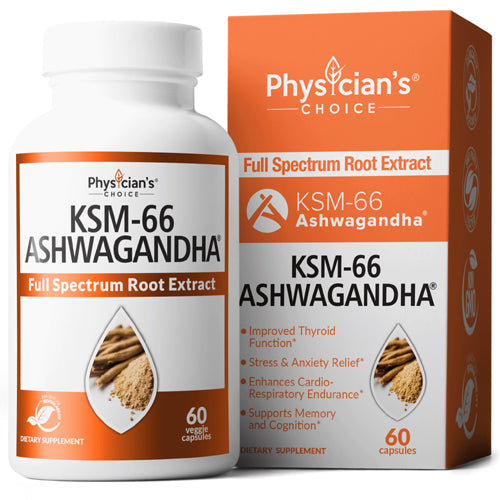 Physician's Choice KSM-66 ASHWAGANDHA 60caps
Regular price $21.00 Sale
The most clinically studied ashwagandha on the market and a safe, all-natural way to relax and reduce stress. 
Using Ashwagandha for Stress and Anxiety
One of the most common uses of ashwagandha is to help reduce stress and anxiety. Many prescription drugs help with anxiety disorders and stress, but can also have significant side effects. KSM-66 Ashwagandha has been shown to be a safe, effective way to improve stress-resistance in adults.1
KSM-66 for Cognitive Function
Reducing your stress and anxiety on its own can help your mind refocus on important tasks. But ashwagandha can help improve your cognitive function and memory as well. Taking just 300 mg. twice daily has a positive impact on immediate (short-term) and general memory, as well as overall brain function (processing speed, attention, etc.)2
Help with Stress-Related Food Cravings
The stress-reducing properties of ashwagandha also make it effective in helping stress-related food cravings. So for adults who have issues with chronic stress, and tend to eat as a result of their feelings of stress and anxiety, ashwagandha has been shown to effectively reduce perceived stress and food cravings.3
Muscle Strength and Recovery
Ashwagandha also shows a lot of promise in regards to helping build muscle and strength. While most of the research on ashwagandha is centered on its anti-anxiety benefits, there is also strong evidence showing that it can be useful in conjunction with a resistance training program to help increase muscle mass, strength and improve recovery time.
KSM-66 Ashwagandha: A major component of Ayurveda and the Ayurvedic diet, ashwagandha root (also called Indian ginseng or winter cherry) has been used for centuries as medicine. Our ashwagandha is sourced from a certified-organic farm with no pesticides, antibiotics or other harmful elements.
Organic Black Pepper Extract: The extract of black pepper (not the seasoning you put on food) contains piperine, which has extensive clinical evidence showing its ability to improve nutrient absorption.