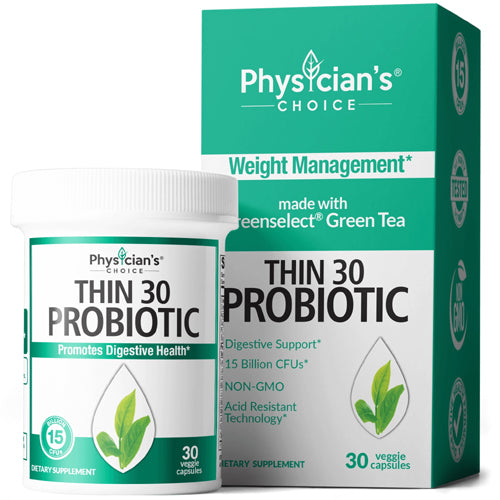 Physician's Choice Probiotic Supplement 30caps
Regular price $27.00 Sale
With six active strains and 15 billion CFUs, Thin 30 can help you find or restore balance to your body. 
Thin 30 Probiotics for Weight Loss
The Greenselect Phytosome contained in Thin 30 is an all-natural caffeine-free green tea extract that has been used and clinically proven to have an impact on weight loss.1 The impact green tea extract has on the metabolism helps provide quick energy to the body, burn fat and cleanse the body with its antioxidant properties.
How Probiotics Support Digestive Health and Balance
Your body's digestive system contains hundreds of different microorganisms. The majority of these microorganisms are friendly bacteria that help break down fiber and provide important nutrients for the body. When the balance between good and bad bacteria is disturbed, problems with metabolism and digestive health can occur.
Studies show that certain bacteria from probiotics can promote more efficient digestion with less fat absorption2. While some probiotics contain strains that are actually linked with more weight gain, Thin 30 is formulated with only the most clinically supported strains such as lactobacillus gasseri and bifidobacterium lactis. Our unique formula includes prebiotics and natural support for further weight management..
What Sets Thin 30 Apart
One thing to be aware of in other products is the misleading count of CFUs listed on the label. Physician's Choice promises to not just use the best, purest ingredients, but also be honest about what's in the products. 15 billion CFUs means 15 billion CFUs. Additionally, the six strains in our Thin 30 probiotic are some of the most clinically researched strains3, shown to be effective for overall gut health.
Additionally, Thin 30 probiotics are protected with a patented bottle that requires no refrigeration but ensures a long shelf life for the probiotic organisms. The delayed-release capsules help protect the probiotics from dying too quickly in stomach acid.
Green Tea Complex (Greenselect Phytosome): Green tea, rich in EGCG, has been traditionally used to increase energy expenditure and burn fat. Greenselect Phytosome contains a green tea complex that is both caffeine free and higher in antioxidants than other green tea alternatives.
Apple Cider Vinegar: Our formula includes an organic source of apple cider vinegar to promote metabolism decrease fat storage. Studies show that apple cider vinegar can also reduce appetite and decrease caloric intake.
Lactobacillus gasseri: Clinical research shows that this probiotic strain helps control fat absorption in the gut. Supplementation with L. gasseri has also been found to reduce BMI, waist circumference, and fat deposits around the stomach region.
Lactobacillus rhamnosus: Another doctor approved strain that can further reduce body weight and weight gain. L. rhamnosus also helps decrease fatty acid production and inflammation in the small intestine.
Bifidobacterium infantis: B. infantis is a friendly strain of bacteria that can support optimal gut health. It works to decrease digestive inflammation and alleviate symptoms of gas and bloating. Bifidobacterium lactis: B. lactis supports weight management by stimulating metabolism. It also helps manage glucose-insulin homeostasis to decrease weight gain.
Fibregum Bio: As a powerful prebiotic, Fibregum Bio includes 100% soluble fiber to help protect digestive health. This proprietary blend has also been shown to strengthen the gut barrier and regulate inflammation.
Jerusalem Artichoke Root: The prebiotic effects of jerusalem artichoke root make it an excellent addition to any weight loss formula. It provides a natural source of inulin, a soluble fiber that helps feed and promote healthy gut bacteria.
Chicory Root: Chicory root is a plant based source of inulin that can promote nutrient absorption and manage fat levels. It also contains antioxidant polyphenols which can fight digestive inflammation.
Red Pepper Capsaicinoids (Capsimax): Naturally sourced from red hot peppers, capsaicinoids are natural fat burning compounds. Capsimax delivers active capsaicinoids in a special controlled-release coating for all of its benefits without the burning sensation of unprotected red hot peppers.