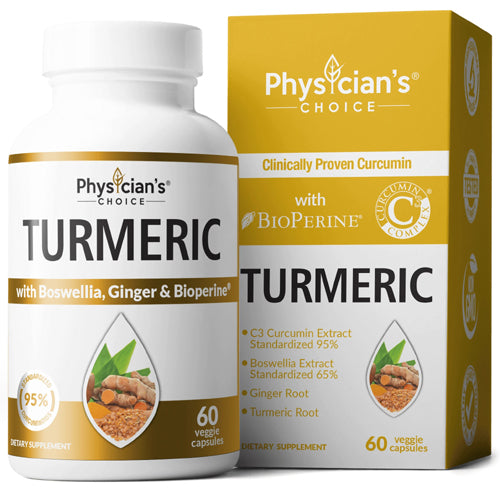 Physician's Choice Turmeric Curcumin 60caps
Regular price $28.00 Sale
An award-winning C3 Curcumin extract for joint health that can help reduce feelings of stiffness and pain that stem from injury, exertion and the natural aging process.
Turmeric for Joint Health
The C3 Curcumin extract in Physician's Choice is a patented and award-winning extract that has been evaluated in numerous scientific studies, which show its effect on joint health and inflammation.1 It is the #1 most studied turmeric on the market today.
Our formula is combined with boswellia, which on its own has also been shown to be beneficial to joint health and movement.2 Combined with curcumin, boswellic acid is shown to have a potent compounding effect on joint pain.3 By adding Bioperine, a black pepper extract, the combined effects of boswellia and turmeric are amplified by adding extreme bioavailability, ensuring the body can absorb the nutrients as quickly and efficiently as possible.4
Active Compounds in Turmeric Supplements
The potency of turmeric and boswellia comes from active compounds, which for this product are the 95% circuminoids and the 65% boswellia serrata. Unfortunately, the majority of manufacturers don't use standardized extracts, or more commonly, only use a very small trace of the effective, active compound in their products. Since the active compound is what makes the product effective, it's important to ensure you understand how much of the compound is in each supplement and that you're getting your money's worth. Physician's Choice makes it our mission to ensure that everyone who wants to improve their health and well-being through supplements has access to safe, high-quality products. This means using pure, quality ingredients that are physician-approved and backed by science.
C3 Curcumin Root Extract (95% Circuminoids): Curcumin is a bioactive substance that fights inflammation at a molecular level, and is also a potent antioxidant.
Boswellia Serrata Extract (65% Boswellic Acid): Boswellia contains active compounds that support a healthy inflammation response. It is combined with circumin to provide support to the body's joints.
Organic Ginger Root: Ginger has been long-used for its natural anti-inflammatory and antioxidant properties.
Bioperine Back Pepper Extract (95% Piperine): Chicory root is a plant based source of inulin that can promote nutrient absorption and manage fat levels. It also contains antioxidant polyphenols which can fight digestive inflammation.