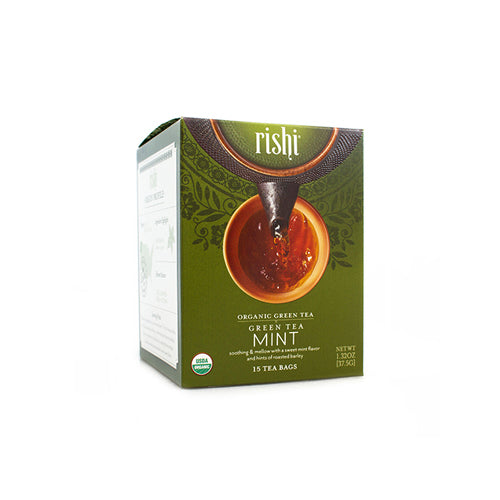 RISHI Tea & Botanicals Green Tea Mint
Regular price $10.00 Sale
Green Tea Mint
Organic
Description
Looking to brew loose leaf? Find more Green Tea Mint options here.

This delicious and calming blend combines a remarkably sweet peppermint variety from Pacific Northwest with Houjicha, a roasted green tea known for its pleasant chocolate-caramel flavor and mild caffeine level. Designed to relax and refresh, Green Tea Mint makes a perfect after-dinner tea.
Tasting Notes
Soothing and mellow with a sweet mint flavor and hints of roasted barley.
---
Ingredients
Organic green tea, organic peppermint.
---
Preparation
1 sachet
8 ounces
200°F
4-5 minutes