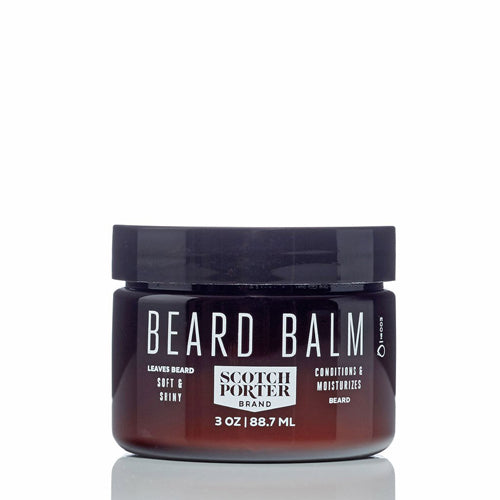 SCOTCH PORTER Beard Balm 3oz
Regular price $20.00 Sale
Does your beard have a mind of its own? Our most popular beard product will come to the rescue to tame your wild beast of dry facial hair with the proper hydration. Our balm immediately moisturizes, conditions, repels dandruff, and keeps your beard soft and shiny: the only way to keep your beard happy. Conditions and moisturizes to promote a soft, thick-growing beard.
No Parabens, No Silicones, No Petroleum, No Mineral Oil, No Artificial Colors & Safe for Color Treated Beards.
SCENT PROFILE: Masculine but floral blend of carnation, with subtle notes of sandalwood, powdery musk and spicy undertones.
AVAILABLE IN: 3 oz. & 6 oz. (3 & 6 month supply)
HOW TO USE:
Massage a dime (small beards) to quarter sized (big beards) amount of our Scotch Porter Beard Balm into your beard thoroughly.
PRO TIP: Getting the right amount of product on your beard takes some time. Be patient, grasshopper. You can determine the exact amount for your beard's texture and length as you go along. These are merely starting points.
Comb and brush your beard into your desired style with one of our awesome combs and brushes, making sure your beard style reflects who you are and what you came to do. Remember: your beard is a reflection of yourself, so make it count.
PRO TIP: A really great comb and brush is necessary to maintain your beard properly. Those cheap plastic combs they hand out in holiday gift bags can snag your beard hair, causing breakage and hair loss. You don't need that negativity in your life. Also, avoid combing your beard aggressively or fast. It's cool that you're such a tough guy, but being gentle to your beard is the way to go. It's important to comb it from top to bottom and from side to the center, since this helps tame your hair to grow in a desired direction. Follow up by brushing your beard with a hairbrush (again, top to bottom and side to center). A Boar's Hair Brush is recommended, as the power of the boar ignites your own natural hair oils to keep your beard shiny, healthy, and clean. We have a few to suggest: Scotch Porter Pocket and Large Beard Combs and Boar's Hair Brushes.