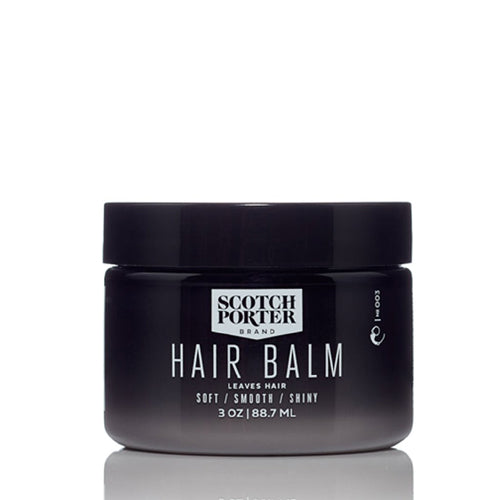 SCOTCH PORTER Hair Balm 3oz
Regular price $15.00 Sale
Attention humans with frizzy, and or moisture-depleted heads: here is your remedy. Our Hair Balm immediately renews moisture and prevents frizz for healthier looking hair. Enriched with Marshmallow Root, Agave Nectar and Broccoli Seed Oil our Hair Balm creates shine, definition and texture without the stiffness and residue of a heavy pomade or gel. Leaves hair conditioned, silky, residue-free without weighing down your hair or irritating your scalp. Your hair will thank you for being so kind to it.
Great for controlling curly, wavy or straight hair. Adds definition, texture and a soft natural hold.
No Parabens, No Silicones, No Petroleum, No Mineral Oil, No Artificial Colors & Safe for Color Treated Hair.
AVAILABLE IN:  3 oz.  
(3 month supply)
SCENT PROFILE: Sophisticated notes of leather and black peppercorn, with patchouli, musk, citrus and warm woods 
Massage a dime to quarter-sized amount of Scotch Porter Hair Balm into your damp hair and scalp. Comb/and or brush your hair in your desired style. YOU'RE NOW READY TO TAKE ON THE WORLD.
PRO TIP: 
Always apply Hair Balm to slightly damp hair and brush, comb or style while hair is still slightly damp. Apply Hair Balm daily. Daily use of our Hair Balm will not result in build-up and dull-looking hair.