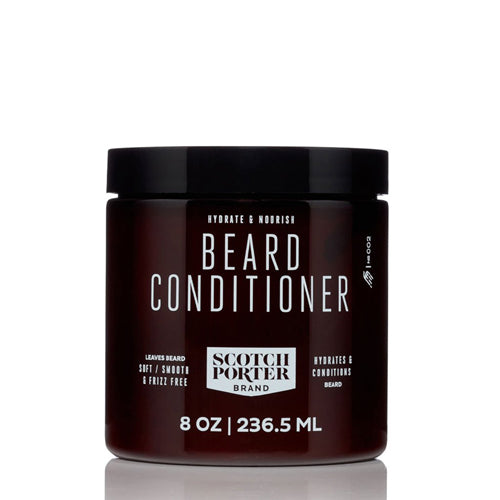 SCOTCH PORTER Hydrate & Nourish Beard Conditioner 8oz
Regular price $20.00 Sale
Listen, a clean beard is a happy beard, but a conditioned beard is an ecstatic one. Once you're done treating your beard to our Moisturizing Beard Wash, take it to the next level with our Hydrate & Nourish Beard Conditioner. This deep-conditioning beard treatment even helps keep your beard shiny in between washes. Prevents excessive beard shedding and promotes a soft, thick-growing beard.
You and your face will love it.
No Parabens, No Silicones, No Petroleum, No Mineral Oil, No Artificial Colors & Safe for Color Treated Hair.
SCENT PROFILE: Masculine but floral blend of carnation, with subtle notes of sandalwood, powdery musk and spicy undertones.
AVAILABLE IN:  8 oz.  (3 month supply)
HOW TO USE:

Work our Hydrate & Nourish Beard Conditioner into your beard thoroughly, paying special attention to the ends of your beard. Leave it in your beard for 2 - 5 minutes. Maybe check some emails, Tweet, and scroll through our Instagram. Then rinse.
PRO TIP: After rinsing the conditioner from your beard, partially dry it.
Here's how:
Squeeze excess water from your beard.
Use an old cotton t-shirt (perhaps something your ex left behind) or microfiber cloth and squeeze firmly and gently (don't rub!) to remove excess water. OR
Use lint-free paper towels to get the job done. Just remember to make them lint-free. A face full of white fuzz is not a good look, unless your beard is actually white. NEVER dry your beard with a towel. EVER. The rough surfaces of bath towels snag beard hair and cause unnecessary frizz. Why would you voluntarily do that to yourself?