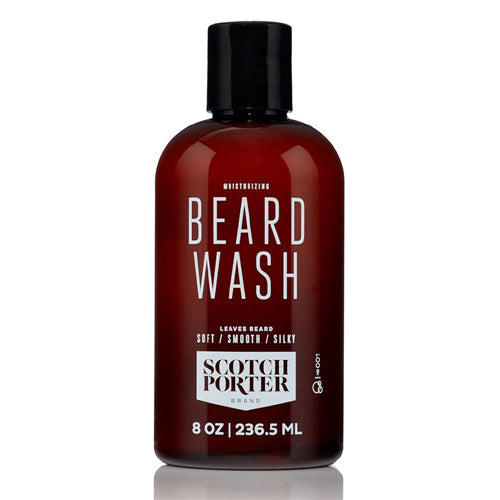 SCOTCH PORTER Moisturizing Beard Wash 8oz
Regular price $20.00 Sale
Do you know what's the saddest sight ever? A dull looking beard. Our moisturizing beard wash is sulfate-free, super gentle and hydrates your beard, keeping it full of life, soft, shiny and healthy. Oh, and it keeps it clean too.
No Parabens, No Silicones, No Petroleum, No Mineral Oil, No Artificial Colors & Safe for Color Treated Hair.
AVAILABLE SIZES:

8 oz.  (3 month supply) for $20.00
HOW TO USE:

Apply our Moisturizing Beard Wash to your wet beard. Gently massage it in, like you do when you rub your chin in deep thought. Rinse it well with warm water. Don't stop until the suds have left your face.

PRO TIP: Only wash your beard with sulfate-free shampoo or wash, since shampoos with sulfates are a follicle menace and leave your beard coarse, dry and frizzy. If your beard is already as coarse and dry as sandpaper, limit your washes to no more than once per week or else you'll rob your beard of moisture, and that's unkind. If you're a fine or oily-haired gent, wash your beard no more than once every 5 days, or else it will look very sad and straggly. Men of all hair types: feel free to condition your beards up to three times per week, in place of shampooing it often.