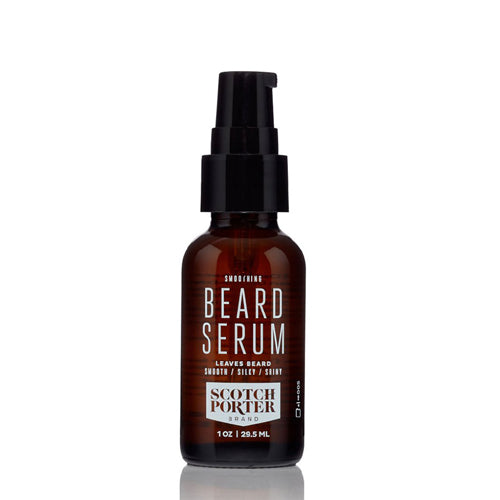 SCOTCH PORTER Smoothing Beard Serum 1oz
Regular price $20.00 Sale
We've done it. We've sealed the deal, and brought your beard to full-on swagged out completion. Our smoothing beard serum mixes the finest ingredients, leaving your beard moisturized, shiny, smooth, and frizz-free. You owe it to your beard.
The key to a well moisturized, shiny and frizz-free beard all day is to seal in moisture and smooth the hair cuticle down. Use of our Smoothing beard serum is the last and most important step of the beard grooming process, as it's use will seal in moisture all day long, combat lifted hair cuticles to rid the beard of frizz, and leave you with a smooth, silky, shiny beard. 
You and your face will love it.
No Parabens, No Silicones, No Petroleum, No Mineral Oil, No Artificial Colors & Safe for Color Treated Hair.
SCENT PROFILE: Masculine but floral blend of carnation, with subtle notes of sandalwood, powdery musk and spicy undertones.
AVAILABLE IN:  1 oz.  (3 month supply)
HOW TO USE:
After styling, apply one pump or less (short beards) or two pumps (long, dense beards) of our Scotch Porter Smoothing Beard Serum to your dry beard. Smooth it out with your hands.
PRO TIP: The key to a well moisturized, shiny and frizz-free beard all day everyday is to lock in that moisture and smooth the hair cuticles down. While every point in the SP Grooming Process is vital, the serum is the real MVP since it keeps your beard in check throughout the day. Protection is the priority.