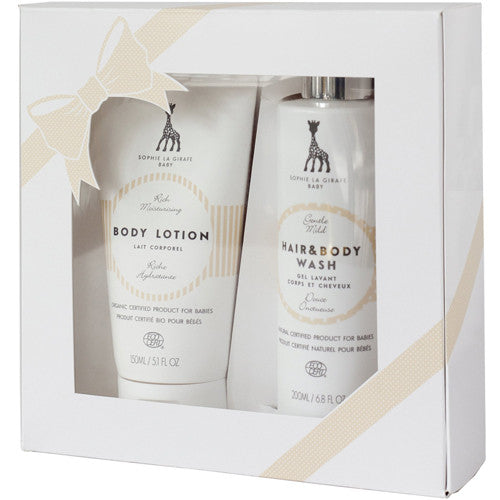 Sophie La Girafe Cosmetics Baby Body Lotion and Hair & Body Wash Set
Regular price $40.00 Sale
Certified organic Body Lotion and certified natural Hair & Body Wash for your baby.

This charmingly presented set contains the following two products from the Sophie la girafe Skincare range:

Sophie la girafe Baby Body Lotion 150ml, a gentle, moisturising and nourishing body lotion made especially for baby's skin. 
Rich and moisturizing, easy to apply and fast absorbing.
Consistent easy to handle texture.
Soften the child's skin and stengthens the skins own natural protection.
Leave the skin feeling nourished and ultra-light.
The selection of safe organic ingredients pampers your child's skin:
White Tea fortifies the skin and provides antioxidant protection.
Jojoba Oil, Cocoa Butter and Shea Butter moisturize the skin and provide the skin with a thin moisture-retaining protective layer.
Lavender Water relieves and prevents skin irritations.
Oat Milk moisturizes, soothes and relieves inflammation.

Sophie la girafe Baby Hair and Body Wash 200ml, a nurturing, gentle cleanser for your child's skin and hair.
Mild and gentle composition.
Nurturing texture.
Forms a rich yet subtle foam.
The selection of safe organic ingredients pampers your childs skin, scalp and hair:
White Tea protects the skin during washing it provides antioxidant protection to the skin and hair.
Lavender Water and Oat Milk provide gentle cleansing of even sensitive and allergy-prone skin.
Cotton moisturizes and conditions, as well as helping untangle knots.
Cleansing ingredients are obtained from plant sources, i.e. coconut (odourless).